Being a Grandma is such a special job.
You are always looking for the best
for your babies Christmas or just always.
When my 2 year old sweet baby love was
1 year old, I wanted him to be part of our traditions
at Christmas time and be able to open
some of the little gifts that we do in our
Advent calendars, but he was too young.
He couldn't eat candies or have
I had purchased a couple of boxes for
him to stuff his stocking with when
I thought up the following idea. It was
a great way for him to join
in at least one of our traditions.
Wasn't too sure what scissors
were and cutting, but in time he will.
need to make one for your
*Wrapping paper (about 4ft.)
*Cute Card or Decoration to put
Keep Mum-Mums in their wrappers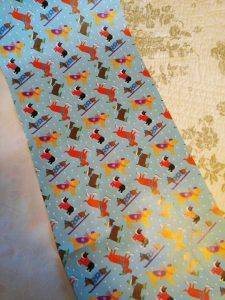 Cut a 4 ft. piece of wrapping paper into
Cutting LONGWAYS in half.
about 9 inches long each.
With the right side facing down,
fold the long sides in 1/3
Tuck a Baby
Mum-Mum
inside. W
ith a
piece of ribbon
tie
a knot at the
bottom of the paper
, leaving
about 2 inches. Tie another knot
at the top of the
Mum-Mum
.
Continue until you have 5 on each
piece of paper. Leaving enough
room to cut at the top of each
When both sides are complete you can
tie the tops together with more ribbon.
Fasten a name tag or other decoration
to the top of the papers that come together.
Hang your Baby Advent somewhere
that they can cut a Mum-Mum each
day when you are doing other
(Note): You can make
it for
12 days of Christmas by adding
more
Mum-Mum
s. Be sure to calculate
your paper for the extra
Mum-Mum
s.
You could add small baby toys if you like.
I also used extra string to tie a small
pair of scissors onto the top so I
would have them to cut
each day.
Hope your (grand)babies love them as